Business process outsourcing India
Companies in India

Today, the world looks towards the Indian IT software and services industry for its good quality and high performance, with many of the Fortune 500 companies outsourcing their IT and ITES services to India. Some of the early entrants to set up shop in India are GE, American Express, British Airways and CitiCorp.
GE employs more than 18000 personnel in its captive Indian centres and reportedly saves close to half a billion dollars annually.
Some of the other companies to outsource wok to India are Boeing, AT&T, Reebok, Coca Cola, Pepsi, IBM, Motorola, Ford, Dell, J B Morgan, Hewlett Packard, Ernst & Young and a host of other world renowned names.
Take mValent, a Tewksbury software company launched last year that's using funds from Charles River Ventures and IDG Ventures to expand. They regularly employ top talent from India to create parallel teams of highly trained employees in the United States and India that will provide the technology infrastructure.
Technology workers in remote sites have fewer interruptions or distractions, because the corporate office cannot introduce work unrelated to the project at hand. Moreover, with two teams, the work is never interrupted as the two teams operate in tandem so that when the sun is up in the USA, the American team is working and when it is down, the Indian team is working.
There are also cost benefits ... for every one person you have, you could have three to four in India -- people with engineering degrees and computer science and the experience of five-plus years.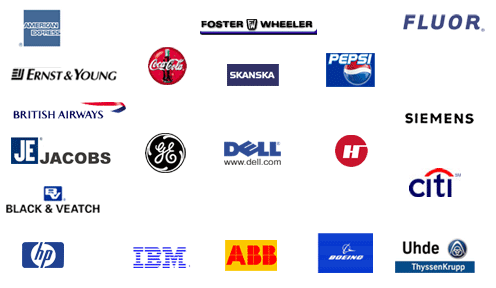 See Also: Why India ?
This site is best viewed in 1024 X 768 resolution.
World Engineering Services Pvt. Ltd. Mumbai (Bombay) India - 2008 All Rights Reserved